Common Mechanism in Alzheimer's diseases and T2D uncovered by Big Data and Deep Learning
March 3, 2020

-

March 4, 2020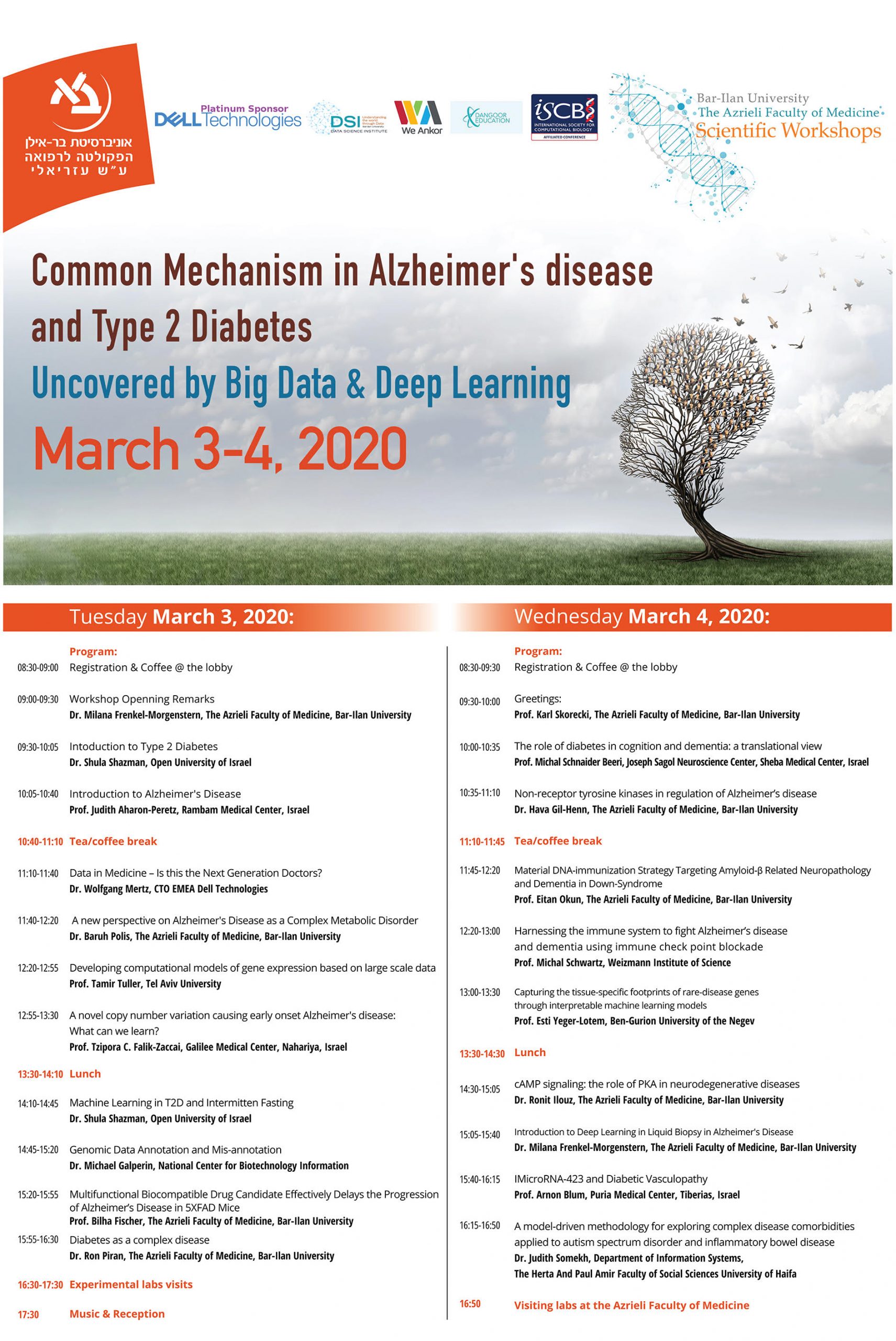 You are cordially invited to attend the "Common Mechanism in Alzheimer's diseases and T2D uncovered by Big Data and Deep Learning" workshop at The Azrieli Faculty of Medicine, Bar-Ilan University, Safed, Israel, on March 3-4, 2020.
As part of a new initiative to culture an international network for The Azrieli Faculty of Medicine, we most warmly welcome your participation in this inaugural event of an international series of workshops, sponsored by the Data Science Institute, Batsheva de Rothschild Fund, Azrieli Faculty of Medicine, and Dangoor Institute of Personalized Medicine at the Bar-Ilan University.

In this two day workshop, we are bringing together scientists from the cutting edge of the scientific fields of neuro-degenerative diseases and Type 2 diabetes. The workshop includes sponsored receptions and lunches, a tour of the ancient city of Safed (optional), as well as visits to the Faculty of Medicine laboratories.
Among the speakers –
Prof. Michal Schwartz, Weizmann Institute  of Science, Israel
Prof. Michal Beeri, Sheba Medical Center, Israel
Prof. Tamir Tuller, Tel Aviv University, Israel
Prof. Judith Aharon-Perez, Rambam Medical Center, Israel
Dr. Kathleen Curran, University College Dublin, Ireland
Dr. Michael Galperin, NCBI, USA.
Please submit your posters before February 25th, 2020,